Q&A With Our Newest Board Members...
One thing we've been itching to do for quite a while now, is create more opportunities for you to connect with our board members. One way we thought we would start doing this, is by having a few relevant questions that each new board member will answer, to help overview why Mindfulness matters to them.
For all of us here at Mindfulness First, we believe that in order to best represent the world of Mindfulness, you must also be a practitioner of it. To gain some additional insight into this, we asked the following questions of our two newest board members, Anna Luna and Diane Pruitt.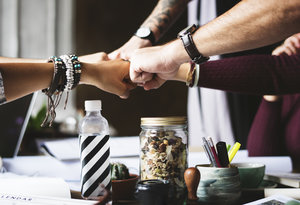 ANNA LUNA
1. How did you first learn about mindfulness?
"I first learned about mindfulness in my Master of Social Worker (MSW) program at Loma Linda University. It was just mentioned briefly so I delved more into it when I was hired as a Prevention Coach at Mesquite High School where they established the first Mindfulness Education and Practice Center in Gilbert School District."

2. How has it been most beneficial in your life?
"It has been extremely useful for all realms of my life but especially my professional life. I wear a lot of hats as a drug prevention coach, college instructor, addiction service worker and board member to the amazing Mindfulness First. Utilizing mindfulness helps me to consistently stay in the present moment and regulate my emotions during times when life feels a bit chaotic (as a mother and full time worker that is always 😊 )."

3. What's your hope for mindfulness in the future?
"My big future hope is to get mindfulness programs established in as many schools and districts as possible by connecting programs already in place, as well as, getting the word out through the work currently offered at Mesquite High School's Health and Wellness Program."

DIANE PRUITT
1. How did you first learn about mindfulness?
"I have always been in search of a peaceful way of living and being, and the practice of mindfulness became a part of that journey over 15 years ago as I was developing my business."

2. How has it been most beneficial in your life?
"I do find that a constant practice in mindfulness helps me to be more focused, authentic and compassionate. There is some power in "being present in the moment" and also "letting go of that moment". I think it is the observation and the self-reflection that make mindfulness a most powerful tool."

3. What's your hope for mindfulness in the future?
"The science is here and the anecdotal evidence is here to support the benefits, short and long term, of mindfulness. It is my hope that mindfulness becomes a way of living and being in our personal lives, our schools, our workplace and our community."